Team Nigeria got its 2nd medal at the 2022 Commonwealth Games on Sunday as Edidiong Joseph Umoafia cliched a bronze medal in the men's 67kg of the weightlifting event, reports Megasportsarena.com. 
Umoafia lifted a combined 290kg (Snatch, Clean & Jerk) to get on the podium.
Stella Kingsley however missed out on a podium finish in the women's 49kg, lifting a total weight of 170kg in the snatch, clean & jerk categories.
Elsewhere, No 1 ranked Aruna Quadri inspired the men's table tennis team to a come-from-behind 3-2 win over Malaysia to qualify for the semifinals of the event.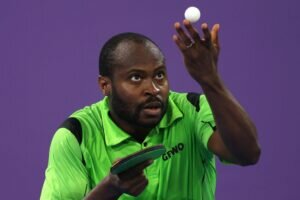 Quadri won the decisive game 3-1 against Jeven Choong 7-11, 11-8, 11-5, 11-9.
India is next on the chopping block.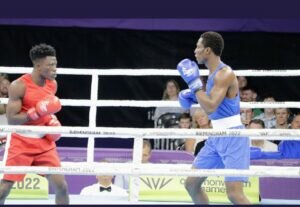 Debutant Adeyinka Benson punched his way into the quarterfinal of the middleweight (71-75kg) category of the boxing event after outpointing Abubakari Kwesi Quartey of Ghana 3-2.