Kamaru Usman has again talked about his hopes on a potential boxing fight with Canelo Alvarez and he believes it would be a must watch spectacle, Megasportsarena.com reports.
Usman who is trying for his next fight against Leon Edwards in a new title defense at UFC 278 in Salt Lake City, Utah also mentioned that a fight with the Mexican champion would be one of the most anticipated combats in history, calling the potential bout as a spectacle that has never been done, pound for pound from both sports going against each other.
"I don't think there's going to be anyone in the world who's not watching that fight." he said.
While skeptics think this fight will never happen, The Nigerian Nightmare still hopes that after both of their commitments are up, they could potentially reach an agreement to meet each other in the canvas sometime in the future.
Usman will be done next month after he hopefully despatches Leon Edwards at UFC 278.
Canelo is set to take a break after his bout with Gennady Golovkin this September, while Usman expresses his desire to settle the Twitter trashtalk the two of them had in recent months.
"When you hear that fight's announced. Everyone's going to be watching that fight", the UFC champ expressed.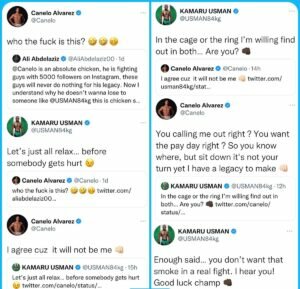 They had a back and forth tweet exchange last april, when someone suggested that Canelo was scared of fighting Kamaru Usman and doubted the rivals of the mexican boxer.
After Canelo's first response, Usman interveined and Canelo told him to wait for his payday while he continues to build his legacy.