Chimezie Metu brought his A-game on display in Nigeria's match-up against Uganda, in an encounter that was to determine who takes the second place in Group A, reports Megasportsarena.com.
D'Tigers of Nigeria prevailed 91-72.
Metu, who is currently with the Sacramento Kings in the NBA powered the D'Tigers with his 25 points and 10 rebounds – his second straight double-double in Window 3 of the FIBA Basketball World Cup 2023 African Qualifiers.
His first double-double was in the game against Cape Verde in which he pulled 10 points and 10 rebounds.
Metu's efforts ensured that Nigeria remain dominant over Uganda as was the case last November when Nigeria posted a 95-69 win.
In today's game, Metu's efficiency rate was +31- the second most a Nigerian player has posted in this African Qualifiers- after Ike Diogu.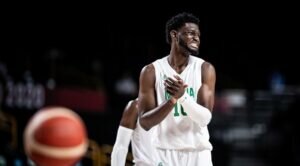 Nigeria playing with a 9-man rotation had Benjamin Anyahukeya Emelogu score 19 points, 5 rebounds and 3 assists while Uche Iroegbu made 16 points.
Christian Mekowulu who combined for 13 points and 13 rebounds in Nigeria's game against Cape Verde had 13 points, 13 rebounds and 3 assists in this game against Uganda.
France-based Rouen Metropole Basket Benjamin Emelogu said at the post-match conference that the Nigeria side suffered from fatigue but had to finish the game on a high note giving the fight back of Uganda.
"We're getting to understand each other and will surely get better. "
Nigeria Head Coach Alan Major praised the team for their sacrifice pointing out that the uncertainty that surrounded Nigeria being at the competition affected the players. "The most important thing is for the team to get better preparation time for the next window. The players have done their best."
Uganda which has won just one of their four games in the 2023 World Cup qualifiers, had Arthur Kaluma leading the flow with 27 points, 6 rebounds and 4 assists.
Kaluma and Ishmail Wainright were Uganda's top scorers in their most recent games but despite their intensity, they could not stop the Nigerian side.
Uganda Coach, George Galanopoulos admitted that his team lost connection with him and as such were not on the same page. "We were just not ready but as we leave to our separate bases, we will continue to communicate on the best possible ways of getting better."