Alice Folashade Oluwafemiayo and Grace Nwanchukwu increased Team Nigeria's medal haul at the 2022 Commonwealth Games by winning gold medals in the powerlifting event on Thursday, Megasportsarena.com reports.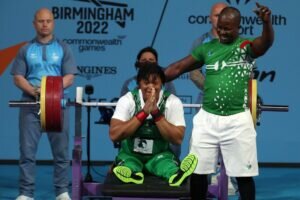 Oluwafemiayo grabbed her gold medal in the women's para powerlifting event with a world record lift in the heavyweight, while Goodness Chiemerie Nwachukwu won hers in the women's F42-44/61-62 discus throw in para athletics.
Nwachukwu set two world records. She first threw a mark of 34.84 metres and then later threw a mark of 36.56 metres.

It was actually gold and silver medals for Team Nigeria in the women's para powerlifting event as they broke the Commonwealth Games record with every lift.
Bose Omolayo attempted a world record 145kg lift for under-79kg level, but received three red lights, and remained second on 115.2 after her 142kg lift on her second attempt.
Folashade Oluwafemiayo swiftly went for a world record of 155kg in the under-86kg, and got it!
The crowd went wild, and she won the women's heavyweight Commonwealth Games title with 123.4 points.
Omolayo was second, while Watson took third after improving to 127kg and 98.5 points on her final attempt.
Yet another medal for Nigeria in powerlifting. Innocent Nnamdi won bronze in the men's lightweight category.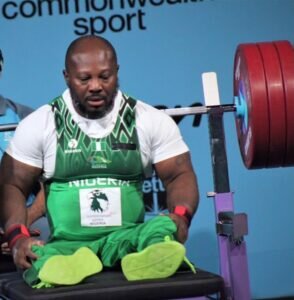 Nnamdi lifted a second round attempt of 190kg to win bronze while Malaysia's Bonnie Gustin and Mark Swan won gold and silver.
Nnamdi's compatriot Thomas Kure finished fourth after a lift of 180kg.
Meanwhile, Team Nigeria is guaranteed another medal this time in boxing following Ifeanyi Onyekwere's qualification to the semi-finals.
In the men's over 92kg Super Heavyweight category, Onyekwere outclassed Marcel Mouafo-Feujo of Canada 5-0.
He will now meet Sagar Ahlawat of India in the semi-final billed for Saturday.
In women's boxing, Nigeria's Cynthia Ogunsemilore knocked out Aratwa Fancinah Kasemang of Botswana in the second round of her lightweight bout to qualify forthe semifinals.