Cyriel Dessers has waved Feyenoord Rotterdam goodbye after a contractual logjam saw The Rotterdammers deciding not to use the purchase option in Dessers' contract to hold unto the KRC Genk of Belgium loanee, Megasportsarena.com reports.
"I had a fantastic time at Feyenoord. Last year I chose this club just before the market closed and that decision has been one of the best of my career
"The whole season has been one big adventure, where the success in Europe and the wonderful interaction with the public stand proudly above it. I will cherish jersey number 33 and Feyenoord for the rest of my life," said the Nigerian international who is currently touring the USA with the Super Eagles.
He also tweeted: "Ok, the post I'm really looking forward to writing it: Thanks for all the support and love this season ❤️ it was an honor to play for you! Hopefully see you soon 😊 Long live Feyenoord 1!"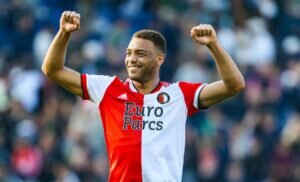 Feyenoord boss Frank Arnesen also reacted to the departure of the club's top scorer in the Europa Conference League.
"A memorable year, for many reasons", Arnesen responds to the Feyenoord club site.
"Cyriel has done exactly what we got him for: scoring goals and making a difference. He has made a major contribution to the European success the club has achieved this year.
And not unimportant: he has captured the hearts of the public in De The cockpit has been stolen. We therefore wish him every success in the continuation of his football career."
Dessers had a successful spell at the Dutch giant scoring 20 goals in 41 games in all competitions last season.
He helped the team reach the final of the maiden Europa Conference League final after scoring 10 goals.