Austin Jay-Jay Okocha is being celebrated in Europe!
One of the best football talents in the history of the game, Nigeria's Austin Okocha is hogging the headlines once again, years after he 'hung his boots'.
His audacious and magnificent goal in the Bundesliga in the 1990s still reverberates in Germany and they can't stop talking about it.
Jay-Jay (in the shirt of Eintracht Frankfurt) collects the ball from Uwe Bein with only Oliver Kahn to beat. He declines the opportunity to shoot with his left, shifting the ball to his right foot before leaving the Karlsruhe goalkeeper on the grass with an extravagant feint.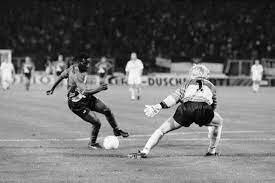 Time to shoot? Not for Okocha. He darts left, takes on another defender and cuts back on to his right once more, then back to his left. There is a pause. Kahn has recovered. Slaven Bilic has raced forward off the line to engage. The moment seems to have passed.
It is then and only then that Okocha pulls back his left foot and fires the ball between two defenders and past Kahn into the net. Eintracht Frankfurt have won the game and their young substitute Okocha has scored one of the most memorable goals of all-time.
It is the greatest goal in the history of the Bundesliga, according to Jurgen Klopp. Kahn, that magnificent German goalkeeper, says he is still dizzy from the experience in 1993. Okocha settles for calling it the favourite goal of his long and brilliant career.
"It just took longer than I expected," he says.
This was the world's introduction to Jay-Jay Okocha- so good they named him twice. His international debut for Nigeria had come only a few months earlier.
He remains the only the only Nigerian in the great Pele's Best 125 Greatest Living Footballers.