Adijat Adenike Olarinoye gave Nigeria its first gold medal at the 2022 Commonwealth Games in Birmingham in the women's weightlifting event, Megasportsarena.com reports.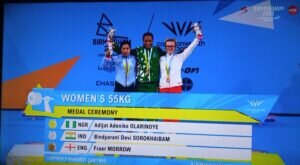 She lifted a record total of 203 Kg to win the 55kg category.
Adijat Olarinoye set two records in 10 minutes and won the gold medal in the snatch category of women's 55kg.
She lifted 90kg and 92kg, and also 111kg in the clean and jerk to make it a combined total of 203kg in the 55kg women's snatch event.