Taiwo Mati dumped two former champions to win his maiden laurel in the men's singles at the ITTF Africa Western Region Championships as Fatimo Bello claimed her third consecutive title in the women's singles of the competition., Megasportsarena.com reports.
Mati, who finished fourth at the national trials organized by the Nigeria Table Tennis Federation (NTTF), edged out 2019 champion Oba Oba Kizito of Cote d'Ivoire in the quarterfinals, as well as compatriot and 2021 champion Rilwan Akanbi in the semifinal to book his passage to the final where he humbled another Nigerian Azeez Solanke 4-1 (11-6, 7-11, 11-7, 12-10, 11-8) to emerge as the new regional champion.
In the women's singles, Bello continued her dominance with another victory over compatriot Bose Odusanya in the final.
Bello, who has remained unbeaten since 2019 when she won the maiden title in Abidjan, Cote d'Ivoire showed her class when it mattered most with 4-2 (11-6, 7-11, 11-7, 5-11, 11-5, 11-4) over Odusanya.
Nigeria dominated the team events-men and women divisions-after beating Cote d'Ivoire and Ghana to retain their titles.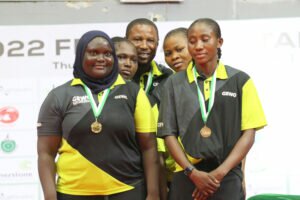 To retain their men's title, the trio of Amadi Umeh, Azeez Solanke and Rilwan Akanbi beat the Ivorien trio of Oba Oba Kizito, Ali Kanate and Cedric Oba 3-2, while it was a smooth ride to the podium for the Nigerian women's team as the quartet of Fatimo Bello, Bose Odusanya, Ajoke Ojomu and Tosin Oribamise whitewashed their Ghanaian counterparts 3-0 to retain the title.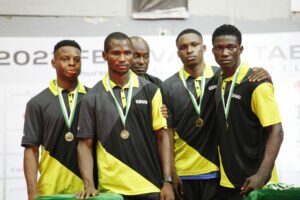 Players from Mali, Togo, Benin Republic, Niger Republic, Burkina Faso, Guinea, Ghana, Senegal and Cote d'Ivoire featured in the three-day championships which also served as qualification for the 2022 African Championships taking place in Algiers later in the year.